WELCOME TO THE LAIR OF A GAY CLOWN!
End of the line; It's just a little explanation of your desperate situation
You're a slave to my design
It's just a complex application to a deadly confrontation: you are so dead dancing with the enemy.
Right into your face: Try to survive It's just a loose interpretation of a broken combination Dig your grave and say goodbye It's an open invitation to a classic domination.
Let me introduce myself: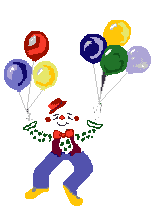 check out my pages!